We just love a winter wedding, the deeper darker colours and the fresh winter air. If you like the idea of getting wed in the winter months, a Winter Wonderland may be just the ticket and a great excuse for lots of sparkle.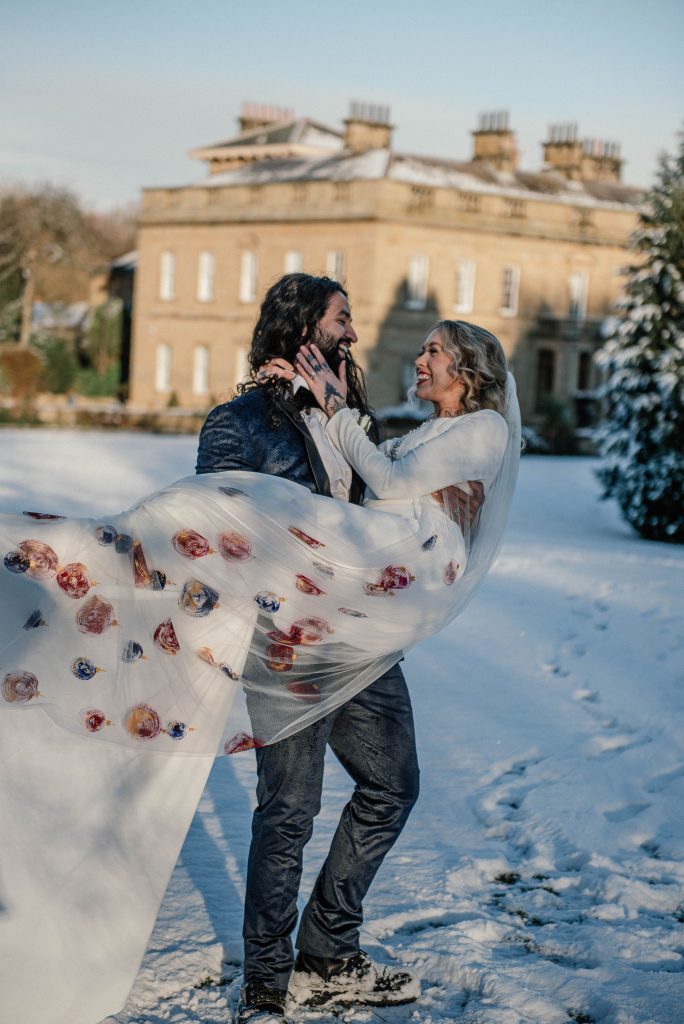 There are many advantages of marrying in the winter, here's some of our top reasons why…
Summer weddings could cause you to overheat in all your finery
You'll have your pick of the perfect winter wedding venue
Plenty of dates to choose from with venues and wedding suppliers
The venue may be cheaper to hire than in the warmer months
The venue is likely to be already decorated
A fantastic time to inject colours of the season, opulent oranges, rosy reds, glittering golds, and lots of beautiful natural greenery.
Not to mention stunning snowy themed wedding photos!
What we love most about winter weddings are the numerous colour options to choose from. Opt for dark and moody, clean & fresh with seasonal white blooms or choose a brighter palette with bold golds, metallics and vivid reds!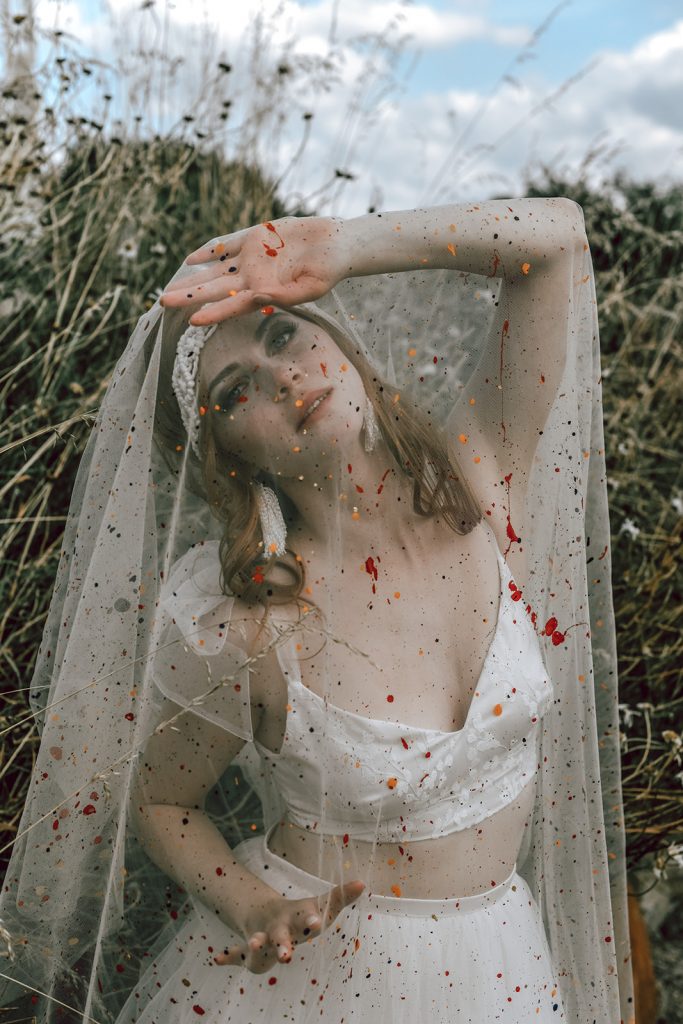 If you're opting for a simple palette, why not inject some colour by adding it to your wedding veil? Years ago, wedding veils were considered a non-essential addition to a bride's wedding day, but we feel it should play an integral part of the outfit and add some personality and colour to any wedding gown.
Winter weddings feel rich and luxurious. You can have oodles of fun with textures & colours and it's the perfect opportunity to let your creative juices run free!
According to Brides Magazine, coloured veils, and bespoke veils are right on trend for 2023.  "Designers didn't shy away from color in their Fall 2023 collections and this trend extended to veils, giving this timeless accessory an unexpected spin. Monique Lhuillier and Nadia Manjarrez both debuted stunning veils with intricate, colorful (often floral) embroidery that complimented gowns, many of which also featured splashes of color."
So, let's create some drama and glamour by designing a bespoke wedding veil which will really take your outfit to the next level and be the highlight of your winter wedding extravaganza!  We'll take your winter wedding wishes and dreams and stitch them into reality, creating something very unique, beautiful and personal to you for your most special day.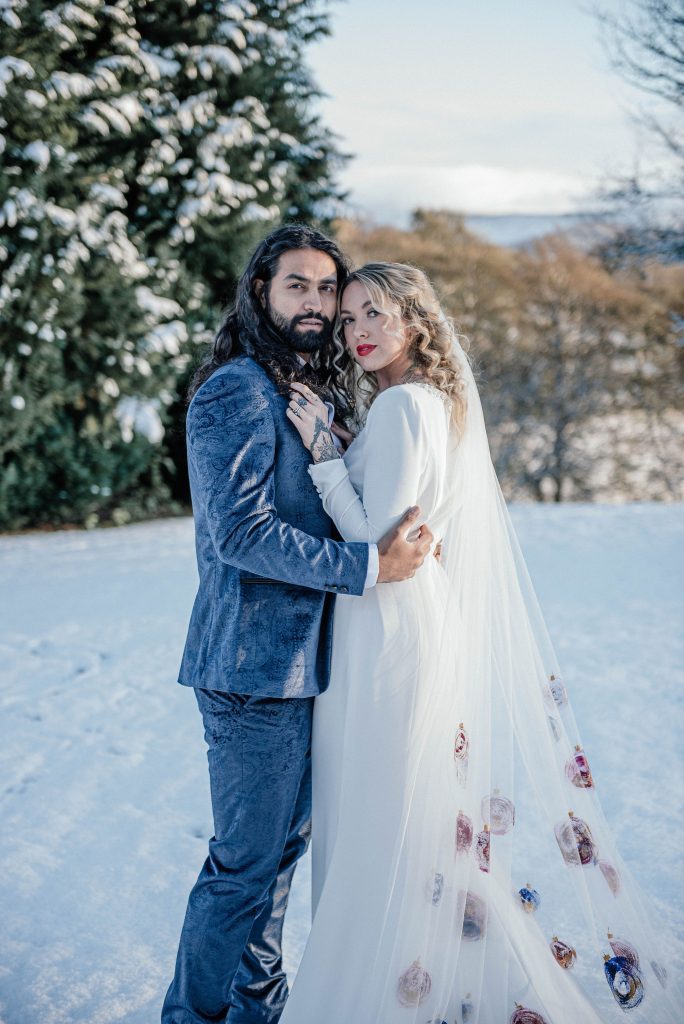 If you're local to Lincolnshire, pop and visit the beautiful 'Bellamme Bridal' boutique in Lincoln, where my cathedral length Christmas Bauble Veil is currently being displayed in the window – one not to miss!
If you're looking to radiate on your big day then drop us a line at debbie@starandleaf.co.uk or alternatively, we love to chat weddings, so call us on 07498 220399.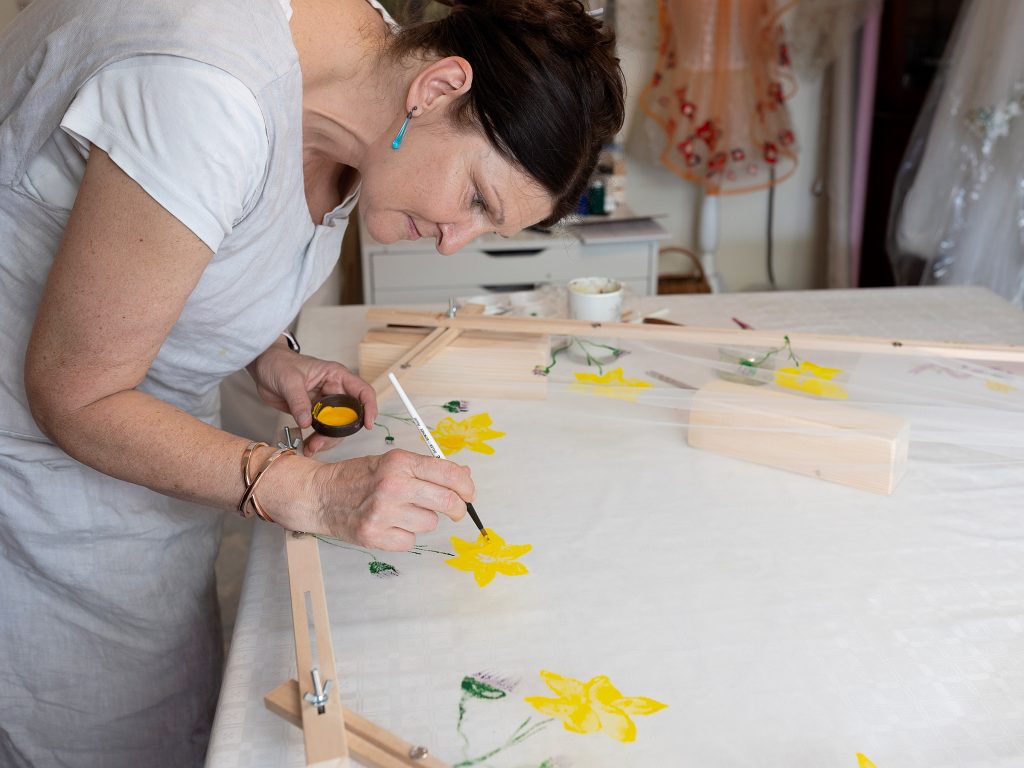 Reference:
Bellamme Bridal: https://www.bellammebridal.co.uk
Brides Magazine: https://www.brides.com/fall-2023-bridal-fashion-week-accessory-trends-6752376